Store Management
SIMPLE CONTROL PANEL
We believe that managing your online store should be simple. With our easy-to-use control panel, you can manage every aspect of your online store and menu. No HTML or programming knowledge is required. Just with simple points and clicks, you'll be on your way from building and managing one store to hundreds all from the same panel.
MENU BUILDER
With an easy menu tool, quickly add items to your site complete with high resolution images, pricing, options and more. You can even set advanced options like making items up-sells and available on certain days and times – great for specials!
CUSTOM DELIVERY ZONES
Allow your customers to see if they're within the loop! Providing delivery has never been easier. Set delivery perimeters with our geo-fencing feature, and designate zones with different delivery fees and order minimums. You have complete control over how far you are willing to deliver, down to the street.
MULTIPLE ORDER TYPES
Provide the ultimate convenience to your customers by offering different order types. You can set your online store to accept Pickup, Delivery, Curbside and Dine-in. You can even set separate hours and notice times to ensure you always have adequate time to fulfill orders.
INSIGHTFUL ANALYTICS
Collect customer data like e-mail addresses, birthdays, anniversaries, gender, etc. Achieve better insight into your online store and customers with rich product reports, sales trends, and consumer buying habits. You own your data, which can always be accessed online.
Loyalty Program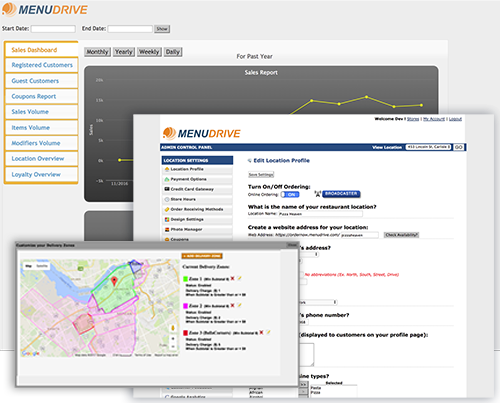 FLEXIBLE SETTING
Setup your loyalty program to fit your business. We provide different ways to reward your customers. You have the options award points based on money spent or orders placed – and setup your own points structure. You can even reward customers for recommending your menu on their Facebook.
CUSTOMIZED REWARDS
Increase your customer frequency and profitability by launching your very own loyalty rewards. Setup offers specific to your business, allow customers to earn your branded points (like "Sal's Pizza Points"), and build that brand loyalty that you always deserved.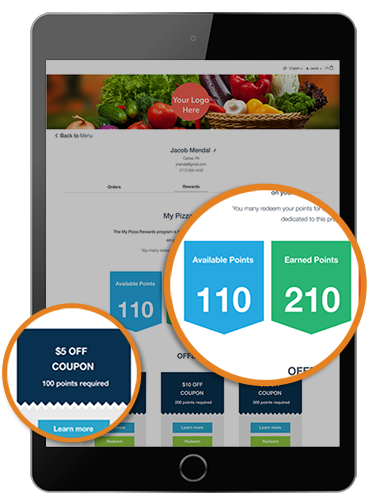 Marketing & Promotions
CONSTANT MARKETING
Always stay in contact with your customers and keep driving them back to your store. Launch email campaigns that will automatically send out to your customers on their birthdays, anniversaries, and more. While you're busy running your business, our marketing automation never stops running for you.
ROBUST COUPON BUILDER
Customers love coupons, and they'll love you more for them. MenuDrive makes it easy and fast for you to create almost any type of coupons imaginable. Need a dollar or percentage off coupon, public or private with specific items attached? No problem. We've got you covered.
AUTOMATED BROADCASTS
Need to broadcast a new special or coupon? Create automated alerts that appear on your online store. These alerts can inform customers of new offerings or news. You can even set these alerts to automatically turn off your store on holidays. Just set when these alerts should appear and sit back, while we broadcasts for you!
Shopping Cart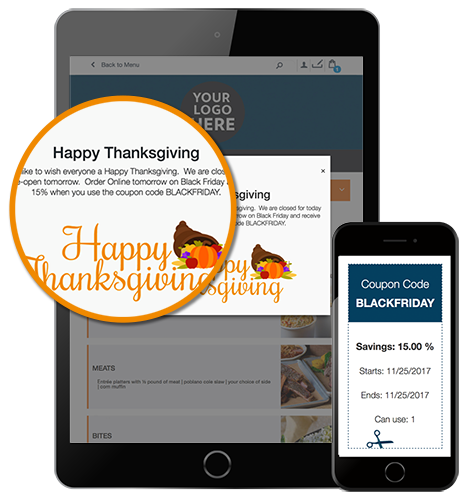 YOUR DESIGN YOUR WAY
Customize the look of your site to match your store's color and brand. With our easy design tools and CSS access, you can change the colors of your menu's buttons, toolbars, and navigations. Upload your own logo, header, and web banner to make your online ordering a seamless experience for customers.
USER FRIENDLY EXPERIENCE
Your customers will enjoy a clean user interface with fast ordering options like Re-ordering. Still, less clutter on your online store doesn't mean your customers will have to sacrifice control. They can always create accounts, save payment info and delivery addresses, and leave feedback on past orders. Now that's power at their fingertips!
GROUP ORDERING
Drive higher ticket sales with our group ordering. Group ordering makes it simple for friends and family to all place an order on one ticket that's batched and sent to your store. This means placing big orders got easy and taking big orders just got easier.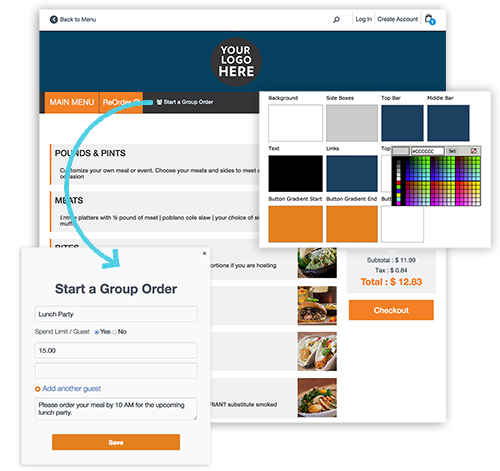 Receiving Orders
SMART PRINTER
Our proprietary smart printer connects to the cloud and will automatically print orders on thermal paper. You can set it to ring when orders are received and confirm orders with a push of a button to notify your customers when their food will be ready.
EMAIL NOTIFICATIONS
Don't have internet at your store? No problem! Orders can be emailed to you immediately after they're placed.
POINT OF SALE
We can send an order directly into your POS system. The order ticket will automatically display on your POS software and print out in the kitchen. It's like having a virtual waiter who never sleeps. Please contact our team to see which POS systems we're compatible with.
ORDER DASHBOARD
View your incoming orders in real time on an online dashboard. You can see all past and present orders and confirm them with your customers all from online. Gain more control and never lose sight.
360° MONITORING
We're bent on your success and never want to see you miss an order. Automated alerts will be sent to you if an order was never received at your store. Our team is also monitoring your orders around the clock. Rest assured that we've got your orders covered.

Accepting Payments
PAYMENT GATEWAYS
Make it easy for your customers to pay online by credit card through your online store. We never hold your money, and you can accept payments using major payment gateways. Contact us to learn more.
FLEXIBLE PAYMENTS
Setup other payment options for shoppers like Cash, and allow custom payments like Check, House Account, or Meal Card. We give you the options to create your own payment options with no limits, so you never lose a sale.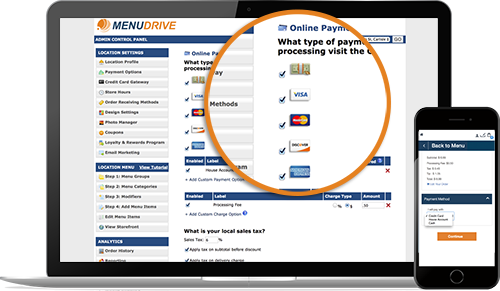 CUSTOM CHARGES
Does your local area require any special taxes or fees? Maybe, you'd like to provide a bagging or processing charge on orders. Whatever the case may be, you have full control to create the custom charges that fit your operations.