Access Avero. Anywhere. Anytime.
Drive sales and average check. Contain costs. Reduce theft and fraud and more.
Avero has hospitality and restaurant management solutions to help you run your business better.
Restaurant Software That Drives Profits
Avero software has powerful restaurant solutions that improve profitability and the guest experience. Our restaurant management software is tailored to the way you work. Whether you are on the floor, in the kitchen or on the go, our industry-leading restaurant analytics software provides you valuable insights so you can make better decisions for your restaurant or enterprise.
Avero's Logbook Allows you to keep a pulse on daily activities from the palm of your hand. Your team can make daily entries on a mobile device on the go and then automatically share with the entire company seamlessly, so you can review it wherever you are. Then, you can reply to the entire team with follow-up. You also have historic Logbook information right at your fingertips so no guest, employee or event will be forgotten.
Avero Slingshot® is a cloud-based, SaaS analytics platform that turns mounds of data into clear, simple, actionable insights. Designed specifically for the hospitality industry, Avero Slingshot takes the guesswork out of decision making and helps you with restaurant cost control and shows you ways to increase restaurant sales.
How to Increase Restaurant Sales and Control Costs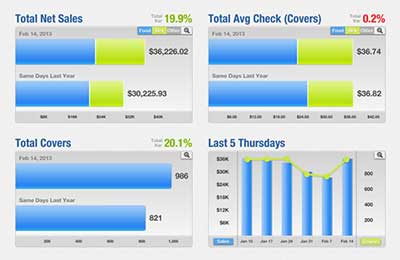 Whether your primary concern is increasing sales, controlling costs, improving server performance or anything in between, Avero Slingshot delivers true insights for your business. This powerful analytics engine slices and dices data in an infinite number of ways, and is intelligent enough to give you only the insights you need in a way that is clear, simple and actionable.
Avero Slingshot's intuitive design allows you to view your data exactly how you need to without having to rely on IT resources. You can set custom date ranges and filter data by meal period, revenue center, employee class and more to get a day's or year's worth of figures on the fly. Avero Slingshot offers a variety of with restaurant business intelligence software modules to help you take on your biggest concerns -- select from the list on the right to learn more about each.
Forecast Restaurant Sales with Meaningful Statistics and Insight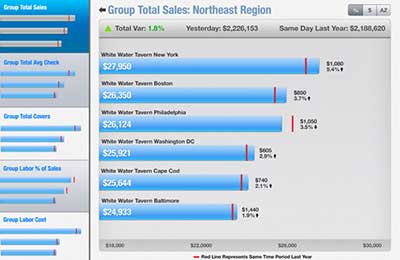 Analyzing data to improve the accuracy of your budgeting takes time. Avero's restaurant sales report quickly delivers long-term comparative data so that you can confidently forecast sales and costs. Relying on meaningful statistics and insights that are delivered to you when you need them will change the way you work and plan for your future. Contact us now and start improving your restaurant sales today.
Food Cost Management solution makes restaurant purchasing and inventory easier than ever. It's predictive, it's fast, and it's hassle-free.
Reduce ordering time from hours to minutes: Avero FCM lets you place orders in one minute or less, PLUS it automatically loads historical purchases and invoices.
Know exactly what to order & when: Avero FCM tells you exactly what you need to order and when based on accurate, predictive sales forecasts.
Eliminate waste & take inventory automatically: Avero FCM removes tedious data entry and paperwork from inventory, automatically updating when orders are received.
Managing labor-related elements is one of the toughest jobs for F&B operators. The Avero Labor module delivers the insights you need to quickly make sound hospitality staffing decisions for front and back of house.
Labor Module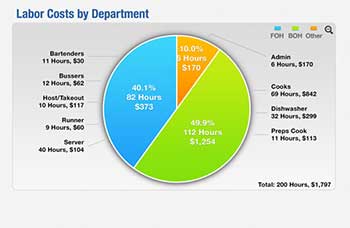 Labor is one of the largest controllable expenses for F&B operators, averaging 25% of gross sales. The Avero Labor module will help you with your restaurant labor management and restaurant staff management by controlling your labor-related expenses without detracting from the guest experience, and integrating with and standardizing data from your POS and time systems then transforming it into actionable insights. It won't be long before you start to see your labor costs fall more in line with sales.
Fine-tune your scheduling and reduce overtime
Reduce payroll costs by quickly identifying staff at risk of overtime.
Fine tune scheduling by trending historical data & conducting like-day comparisons.
Improve guest experience by having the right staff on the floor & in the kitchen.
Uncover restaurant labor patterns within departments, job types or for individual employees.
Avero saves time, drives profits, and gets you the answers you need to make better business decisions.